INTRODUCTION
When Schalk van Niekerk traded all his possessions for an 83.5 carat stone owned by the Griqua Shepard, Zwartboy,
Sir Richard Southey, Colonial Secretary of the Cape, declared with some justification:
"This is the rock on which the future of South Africa will be built."
For us, The Star of South Africa, as the gem became known,
shines not in the East, but in the Northern Cape.
Tourism Blueprint, 2006)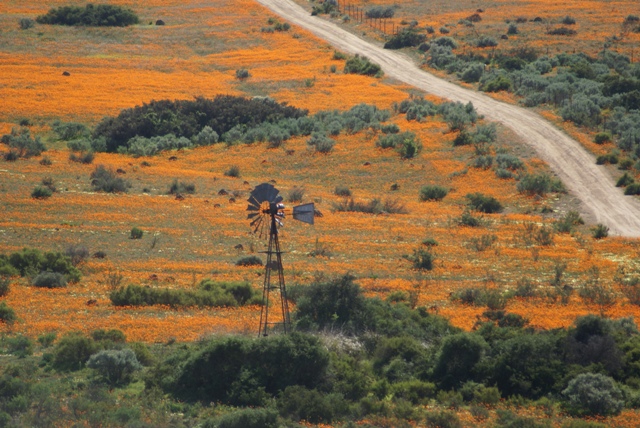 Diamonds certainly put the Northern Cape on the map, but it has far more to offer than these shiny stones. The Orange (Gariep) River brings life to this arid region. The province is well known for its colourful display flowers in Namaqualand, even if it is only for a fleeting period. The province also boasts Africa's first transfrontier game park, the Kgalagadi Transfrontier Park and South Africa's only mountain desert Park, the |Ai-|Ais Richtersveld Transfrontier National Park. It also hosts the southern hemisphere's largest astronomical observatory at Sutherland. The province is rich in San rock engravings and well known for its fossil finds.
The Northern Cape is the largest province in South Africa but the least populated. Furthermore, the climate is extreme with the highest and some of the lowest temperatures in the country recorded here. The region also has the lowest rainfall of all the provinces.
In 1994, the Cape Province was divided into three provinces, the Western Cape, Eastern Cape and the Northern Cape. The Northern Cape is also known as Mntla Koloni (Setswana) and Noord-Kaap (Afrikaans). The province is larger than Germany and almost the size of Montana (USA).
The North West, Free State, Eastern Cape, Western Cape, Oranje (Gariep) River and Atlantic Ocean forms the borders. Namibia and Botswana are respectively located on the northwestern and northern borderline of the province.