Limpopo is the most northern province of South Africa. It is sometimes described as the "Golden Horseshoe" , which refers to the huge arc of unspoiled natural countryside. Limpopo is the gateway to the rest of Africa, and a unique feature of this province is that it shares international borders with three countries: Botswana, Zimbabwe and Mozambique, as well as the provinces of Mpumalanga, Gauteng and North West.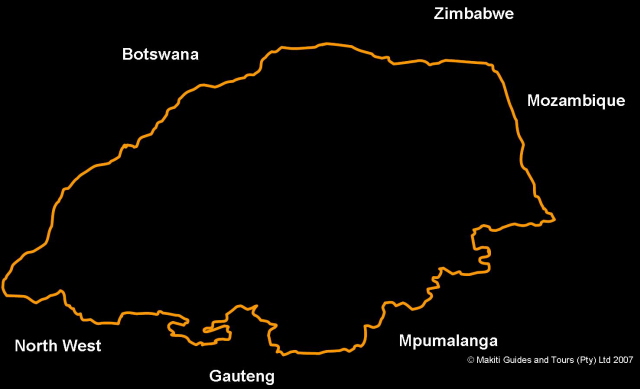 In 1994, the province was formed from the northern region of the Transvaal, and initially named Northern Transvaal. The following year, it was renamed Northern Province, which remained the name until June 2003, when the name was formally changed to Limpopo. The name is a tribute to the province most important river, the Limpopo, located on the border with Botswana and Zimbabwe.
The name "Limpopo" is derived from the Nguni word, "iLimpopo" meaning "rapids" or "waterfalls". According to legend, it was given by the fleeing army of Mzilikazi on their way to Bulawayo. This referred to the sound of the running water over some rocks where they crossed over to Zimbabwe, somewhere close to the confluence of the Limpopo and Sashe Rivers and Mapungubwe.
Limpopo consists of mainly rural communities, comprising of several ethnic groups that are distinct in their cultures. The largest group are the Northern Sotho (Bapedi) accounting for more than half the population in Limpopo. They are followed by the VaTsonga and VhaVenda. The Afrikaans community only accounts for a small percentage.
Home to two World Heritage Sites, Mapungubwe and Makapan's Valley (annex to the Cradle of Humankind, Gauteng) and the renowned Kruger National Park. It is also the land of the Rain Queen, Modjadji and the sacred Funduzi lake. Truly, a legendary place and distinctly Africa.