Cultural Guiding.com is a collaboration between WildlifeCampus and Makiti Guides & Tours.

WildilfeCampus: Has a long and very successful and track record of delivering Online Wildlife Courses and Qualifications.

Makiti Guides & Tours: Well known for the provision of The Cultural Guiding industry's most sought after Cultural Guiding Practical Courses
Together we bring you Cultural Guiding.com ; offering a wide range of online courses covering all nine provinces (as qualifications for Tourist Guides), as well as a wide array of other cultural specialist topics.

We will also l be introducing the NQF Level 4 National Certificate in Tourism: Guiding.


---
About WildlifeCampus
For those perhaps not familiar with WildlifeCampus, please visit us here.




---
About Makiti Guides & Tours
Makiti Guides & Tours was born out of a love and excitement about the diversity and colourfulness of the New South Africa and the rainbow nation. Years of travel experiences locally and abroad, as well as an in depth evaluation of the different aspects of the Tourism, prompted us to find ways of contributing to effective impartation of knowledge on all levels within this industry.


---


Our vision and aims
To provide "Training Incentives for Excellences" (LIFE)
LIFE is all about people, should it be in training, acting as a Tourist Guide, Service provider or just enjoying a holiday as a Tourist. The person should always be the focal point.
In the Tourism Industry, information plays a vital role, from the planning of an itinerary, the costing, right through to the delivery and feedback reports. We therefore have the following approach and vision:



To establish and reinforce core information.
To ensure that students, Tourist Guides, Tour Operators etc. are provided with the necessary material.
To supply ample visual material (photos, presentations, audio ,etc.) to support the learning process.
To stimulate and encourage a culture of curiousity.
To establish a central electronic information database that will eventually be a treasure chest of cultural topics in South Africa.
To provide frequent updated information and set a platform for people across the country to give their input.
Finally, to encourage people "to love their land, embrace the people and be informed"
---
Our logo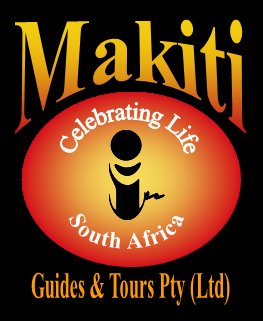 The circle symbolizes beginnings, essentials or core truths/facts and a holistic approach to guiding and the Tourism industry. It also symbolises the sun shining on all the people of South Africa.

The inner symbol represents the following:
Information that is linked to the core truths, emphasizing the importance of knowledge being presented in context and with accuracy.
The individual, the conveyer or receiver of information, surrounded by the warmth (see circle) of a personal interaction.
---


Our slogan
Celebrating life in South Africa, the dawn of a new area; the unique and colourful people the beauty of our land.


---


Accreditation
Makiti Guides & Tours is an accredited training Provider with THETA (Tourism, Hospitality and Sport Education Training Authority) and therefore, we comply with all their requirements.

Makiti Guides & Tours is also in the process of registering with the DEPARTMENT OF EDUCATION and UMALUSI.


---
Contact details
The contact details for Makiti Guides & Tours (Pty) Ltd are available on the Contact Us page.